Are you someone who has recently gotten a real estate license? Do you wish to run your own business and control your destiny? If yes, you might already know you need to partner with a real estate sponsor. But what does that mean, how will it help you, and how to find a sponsoring broker in Texas?
Why Do You Need A Sponsoring Broker?
To use their real estate license, all real estate agents must work under a professional broker. It would be best if you also did so since a broker can guide new agents during the hectic initial years of their careers. To sponsor real estate agents, a broker must have at least 3,600 points in experience, in addition to several other factors. Remember, these are the minimum standards for sponsorship. If you are wondering how to find a sponsoring broker in Texas, consider other intangibles, like the support and mentorship they provide.
Know What You Are Looking For!
Before looking for a sponsoring broker, you must understand what you seek. Are you looking for someone who has a significant market reputation? Or someone who offers you lower commission rates? You may need a mentor who offers you extensive support and training. Keep your priorities in check when you meet your potential broker in person. If you are wondering how to find a sponsoring broker in Texas, you must always start by asking the right questions.
Ask them questions about their commission structures, how you will be paid, and your costs. You must ensure your broker offers plans that are transparent and affordable. When you partner with NB Elite Realty, we offer all our agents professional support from our founder broker Nebo Bandovic.
Nebo has extensive experience in real estate and has helped several agents quickly achieve their long-term goals. NB Elite Realty is located across multiple states with more than 1,000 agents. Our broker is a full-time investor and mentor who can help you reach financial freedom via real estate investing.
Compare Fees and Commission Rates for Multiple Brokers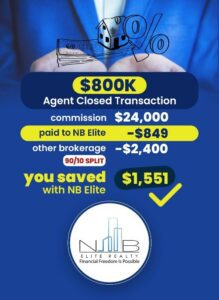 Another critical factor you must consider is their commission and fees. You must compare these rates across multiple brokers to easily filter out the best deal possible. It's also best to ask your broker about hidden charges or fees so there are zero surprises down the lane. Our NB Elite Realty team will be more than happy to answer your queries.
Moreover, since we are a 100% commission brokerage, you will only have to pay a flat transaction fee which starts as low as $249!
Our VIP investment program is perfect for everyone who wants to take their skills to the next level! It includes a 10-week program led by Nebo himself. Agents who join our memberships will spend their initial Zoom sessions speaking one-on-one with Nebo. He will help analyze you and your financial situation to develop a business plan that works best for you. He will also be available to answer any questions.
Working With The Right Broker Can Pay You Off In Huge Dividends!
Only a handful of brokerages offer agents extensive support and training, which is critical if you are only starting out in the field. Most agents settle with someone who offers them great commission rates, ignoring other factors like training and support, which can take you a long way in your career. Therefore, you must research before finalizing a broker to find someone reputable.
Ensure their commission rates or fees align with your long-term career goals. After all, if you are unsatisfied with what they pay you or the fees you have to pay to do business, you will not be much likely to succeed.
Contact NB Elite Realty for Assistance Today!
If you are wondering how to find a sponsoring broker in Texas, your search ends here! Our NB Elite Realty team is here to help you kick-start your real estate career in no time. Our founder broker, Nebo Bandovic, will personally guide you on your route to success. Join our team today to reach financial freedom as soon as possible! Call us at 844-444-6237 for more information.