If you are getting your real estate license, taking the education courses and passing the state licensing exam is only a part of beginning your professional career. To get a license, you must partner with the right sponsoring broker. But what is a sponsoring broker? And what are the top qualities to look for in your sponsoring broker?
What Is A Sponsoring Broker?
A sponsoring broker is a licensed real estate broker who hires agents and associate brokers. As a real estate agent, you must contact a sponsoring broker to become a part of their brokerage. Without a sponsoring broker, you will not get an active salesperson license or be able to renew your existing license.
A sponsoring broker will have years of experience and have taken additional tests and coursework to prove their understanding of real estate practices and laws. When you partner with NB Elite Realty, you will have many advantages, including mentorship from Nebo Bandovic, legal protection, marketing, name and brand recognition, and more.
In return for these services, most brokerages expect you to give up a significant portion of your commission. However, with NB Elite Realty, you will only have to pay a flat annual fee and, in return, get to keep 100% of the commission you earn!
Now that you know what is a sponsoring broker, let's check out the top qualities your sponsoring broker must possess!
Qualities To Look For In A Sponsoring Broker!
If you feel overwhelmed navigating the real estate market by yourself, you can benefit greatly by having an experienced sponsoring broker beside you. However, if you wish to make the most of your career, you must work with the right broker! Let's check out the top qualities you must look for in your sponsoring broker!
The Commission Split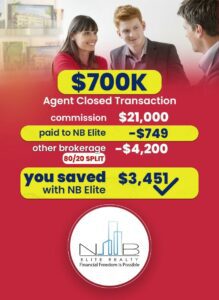 One of the most critical factors you must consider when selecting a sponsoring broker is the commission split since it generally differs from broker to broker. Though it's one of the most important considerations, you must not base your decision entirely on the commission split. That being said, your commission split will significantly affect your overall earning potential. At NB Elite Realty, we function under the 100% commission real estate model, which allows our agents to take home 100% of their commissions (minus the annual and transactional fees). Refer to the image on the left to understand how NB Elite Realty can help you earn more money. Moreover, our founder broker, Nebo Bandovic, will also give you tips on investing all the extra money you save by working under the 100% commission model.
Professional Support And Mentorship
As a new agent trying to run your business, you will need professional support and mentorship to make it big in the real estate industry. Most high-end brokerages like NB Elite Realty provide agents will training and education programs that help them kick-start their new career.
Always ask your sponsoring broker about the structure and frequency of these programs. You must set yourself up with the proper guidance for a successful career. Ensure you partner with someone willing and able to answer any questions. Nebo has more than 40 years of experience in the real estate industry and can easily guide you toward making a successful career for yourself.
Reputation
It's best to work with a brokerage with a decent standing in the real estate community. You must always align yourself with a sponsoring broker actively involved in the community. If you were interested in selling or buying a property, would you want this brokerage to manage your transaction? NB Elite Realty has more than 750 agents working across four different states in the US. This shows how much our agents trust and believe in us!
Want To Start Your Career As A Successful Real Estate Agent? Contact NB Elite Realty For Help Today!
If you want to be successful, you must partner with a broker who has experience in the field and can help guide you to success. Our founder, Nebo Bandovic, has years of hands-on experience, which will be much more valuable to you than any lesson from a textbook. If you have any questions about our services and charges, please call our team at 844-444-6237 for more information.