Everyone in the real estate world will agree that brokers are the foundation of this business. They offer you help to develop the right skill set for the job. The right broker will also provide technological support to help you get ahead of the pack. However, most real estate brokers expect their agents to pay a percentage of their commission, which can negatively affect your take-home pay. If you want to increase your overall profit, you may want to check out 100% commission real estate brokerages.
100% Commission Real Estate Model Explained!
When you work with a 100% commission brokerage, you will not have to stress about splitting your commissions with the broker. Knowing that you get to keep the entire commission you earn should help motivate you to work harder to achieve your financial goals. You can have a clearer vision for your future, allowing you to plan your finances better.
A 100% commission real estate brokerage will ask you to pay a monthly or annual fee for all their services. At NB Elite Realty, you must pay a $249 yearly fee (and a small transaction fee) to have access to professional investment training, fantastic broker and office support, and much more.
This fee is insignificant compared to the commission percentage a conventional broker might ask for. For example, a traditional broker may ask agents to pay 30% of their total commission on a sale. On the other hand, a 100% commission brokerage will only ask for the given fee with zero hidden charges.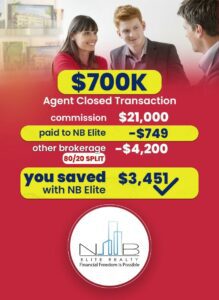 Leading Advantages Of Working Under A 100% Commission Real Estate Brokerage
Many real estate agents are now switching to 100% commission real estate brokerages. Being able to take home 100% of their commission is a critical reason why agents join NB Elite Realty, but there are also several other advantages of joining a 100% commission broker. These include:
Flexibility
In traditional brokerages, agents are expected to meet yearly or monthly quotas. Moreover, you must match the standards and restrictions set by the brokerage. However, when you join a 100% commission real estate brokerage, you will not have anyone riding your back to meet targets or specific goals. You will have the flexibility and freedom to run your business as you see fit.
Freedom
Flexibility and freedom generally go hand in hand since you have no restrictions when working under 100% commission real estate brokerages. It will be up to you to select how many properties you wish to sell in a month. Moreover, you will not have to worry about losing a considerable cut from your sales commissions.
Transparency
In real estate, traditional brokerages are infamous for creating confusion. There is a lot of hidden information related to your commission split, fees, and payment structure, resulting in agents taking home less than their worth. Once you join a 100% commission broker like Nebo Bandovic, you won't have to worry about any hidden loopholes.
Nebo Bandovic has over 40 years of experience in the field and knows how important transparency is for success. This is why at NB Elite Realty, we lay out all the information you need in clear, simple, and easy-to-understand terms right up front.
Want To Join A 100% Commission Broker? Contact NB Elite Realty Today!
If you are a real estate agent who wants to make big bucks in the real estate world, contact NB Elite Realty today! Our 100% commission real estate model allows you to take home all your commission without any hidden fees or additional charges. Moreover, our founder broker, Nebo Bandovic, will help you better understand the industry and teach you how to make a brand for yourself in real estate. Call us at 844-444-6237 to find out more!