All real estate professionals make the most of their income off commission, so it's critical to know how various commission structures work. Most traditional brokerages in Miami work off a commission split where the real estate agent has to take out a percentage of each transaction for the broker. However, if you don't want to split your commission, maybe it's time you check out 100% commission real estate brokers in Miami!
100% Commission Model: How Does It Work?
Real estate agents often ask us if a 100% commission real estate model is as literal as it sounds. The short answer would be yes. When agents join our brokerage (NB Elite Realty), they get to keep 100% of the commissions they make from each transaction. In return, a small fee is attached to being a part of our brokerage.
The fees you pay to join a 100% commission real estate broker will remain insignificant compared to the percentage you would pay to a conventional broker. To help you better understand how a 100% commission model works, let's do a comparison.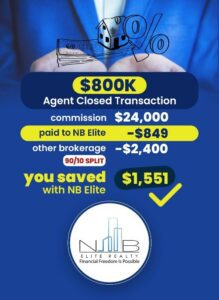 Let's assume the commission on a real estate deal is $24,000. Now, if you were working with a traditional brokerage that has a 90/10 split, you would only get $21,600 while your brokerage would get the remaining amount. However, if you work with NB Elite Realty, one of the most reputable 100% commission real estate brokers in Miami, you can take away 100% of your commission for the deal. As a real estate agent, you will get higher profits after paying the annual fee (and any other additional fee as per your membership plan).
If you are an experienced real estate agent who has built a clientele and has a successful business as an individual, this commission model is perfect for you. However, if you are a new agent, don't worry; our founder broker Nebo Bandovic can help guide you to success in no time.
Top Factors To Consider When Joining A 100% Commission Model In Miami!
You must keep a few factors in check when evaluating a 100% commission brokerage. These include:
Upfront Costs: 100% commission real estate brokers in Miami require agents to pay upfront fees (or monthly payments) in exchange for providing them access to resources like training, marketing materials, and support. This fee can quickly add up to a substantial amount. Therefore, you must carefully consider whether the benefits outweigh the cost. When you partner with NB Elite Realty, you will only have to pay a yearly fee of $249 to access our investment training and other resources.
Support: In most traditional brokerages, agents can access support staff, including marketing professionals, administrative assistants, and experienced brokers. However, a 100% commission broker might not necessarily provide you with such support. Therefore, you must ask your 100% commission broker what support they provide their agents. At NB Elite Realty, you will work with Nebo Bandovic, a seasoned real estate broker with 40+ years of experience in real estate! He can quickly guide you to success in no time.
Work Culture: Though this might not sound important, you must pay attention to the work culture and the amount of staff on hand. If you notice a lot of administrative workers on hand, it means you will get decent support. Similarly, if the firm has many agents working under it, it says a lot about the support they provide. Remember, firms that treat their staff like mercenaries will only have agents working under them for a short time. At NB Elite Realty, we have more than 760 agents, which is still growing.
Contact NB Elite Realty For More Information!
If you are ready to work independently and have a lot of drive, don't hesitate to contact NB Elite Realty for professional guidance! We can provide all the help and support you need to earn huge profits and take home 100% of your commission! If you have any questions or doubts about working under a 100% commission real estate model, call us at 844-444-6237, and we will explain why it is a more realistic and attractive alternative to traditional brokerages.